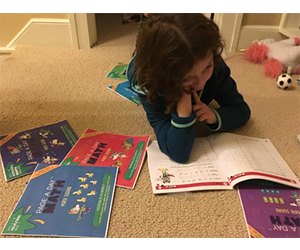 Written Off As A Poor Math Student at Age 6!
My name is Janice and here's the Page A Day Math with the Math Squad story.
My 2nd-grade daughter came home in tears, certain that she wasn't smart because she had been placed in the lowest math class. However, when I met with her teacher, I discovered that my daughter didn't know her math facts. Her placement test showed a lack of fluency in that essential foundation, but instead of prescribing more practice, her teacher had already written my 6-year-old daughter off as not a "math person."
I started Page a Day Math because there was no incremental, cumulative program of daily practice that introduces new concepts at a gentle, incremental pace while cementing cumulative knowledge with regular practice.
In just a few months of creating makeshift worksheets for my daughter, she not only caught up but the following year she tested into the highest math class. This had a huge impact on her confidence: not only was she a "math person" but she had put in the work to get there. At such a young age, just a little daily practice propelled her ahead of all the students who weren't getting the same kind of regular review.
This inspired me to become a math tutor, volunteer math teacher, and eventually a full-fledged math teacher for 5th and 6th grade pre-algebra. During my time as a teacher, I saw the painful, stressful results of students struggling with basic math facts fluency. A broken foundation made each new grade advancement ten times harder than it needed to be. 
After years of personal experiences as a math teacher and tutor, I truly believe anyone can be a "math person." This led me to create Page A Day Math, which features adorable math books and tools that are exploding with color, fun, encouragement from the Page a Day Dog Math Squad, "Mo, Jo, Flo, Bo and Zo," and inspiration for both child and parent.

Have Fun!
About the Author and Creator of Page A Day Math
Janice Marks

Janice began her career in education to pursue teaching pre-algebra at BASIS Tucson North, a charter school currently ranked as the sixth-best STEM school in the country by Newsweek. There she found joy in teaching math, working with parents, and inspiring children to believe in themselves and thrive. This experience, along with helping her own children succeed in math, led her to develop the Page A Day Math system.