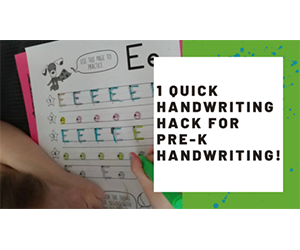 1 Quick Hack for Pre-K Handwriting!
Ever notice how many educational tools meant for young children are enormous? Whether it's a handwriting worksheet, cursive worksheet, or printables found online!
For example, we hand them giant, clumsy pencils and teach them to write giant, awkward numbers and letters, in giant, awkward workbooks.
Yet children are small-sized people with SMALL hands. 
It makes no sense!
Throughout my career as a teacher, I've seen so many young children struggle to write numbers when they're expected to write them huge.
Yet, when they write them at a more reasonable size—not as small as you or I would write them, but certainly smaller than what most workbooks and schools teach—it's easy!
This is exactly why, with Page A Day Math, the number size your child learns to write at is smaller than what you may be used to seeing.
Parents who've already bought and loved Page A Day Math for their kids, when they first saw the number size, worried the numbers were too small for their child...only to be amazed at how successfully their child—who struggled to write the numbers when they were expected to make them large—could write these smaller numbers.
And I bet it'll be the same for your child.
Click here to get your child's Pre-K Starter Kit, so your child can begin learning math—including writing numbers clearly, correctly, and at a size that's manageable for small hands—before they even start school!
Remember, I offer a 60-day money-back guarantee (no questions asked), so there's nothing to lose by introducing your child to Page A Day Math.
About the Author and Creator of Page A Day Math
Janice Marks

Janice began her career in education to pursue teaching pre-algebra at BASIS Tucson North, a charter school currently ranked as the sixth-best STEM school in the country by Newsweek. There she found joy in teaching math, working with parents, and inspiring children to believe in themselves and thrive. This experience, along with helping her own children succeed in math, led her to develop the Page A Day Math system.