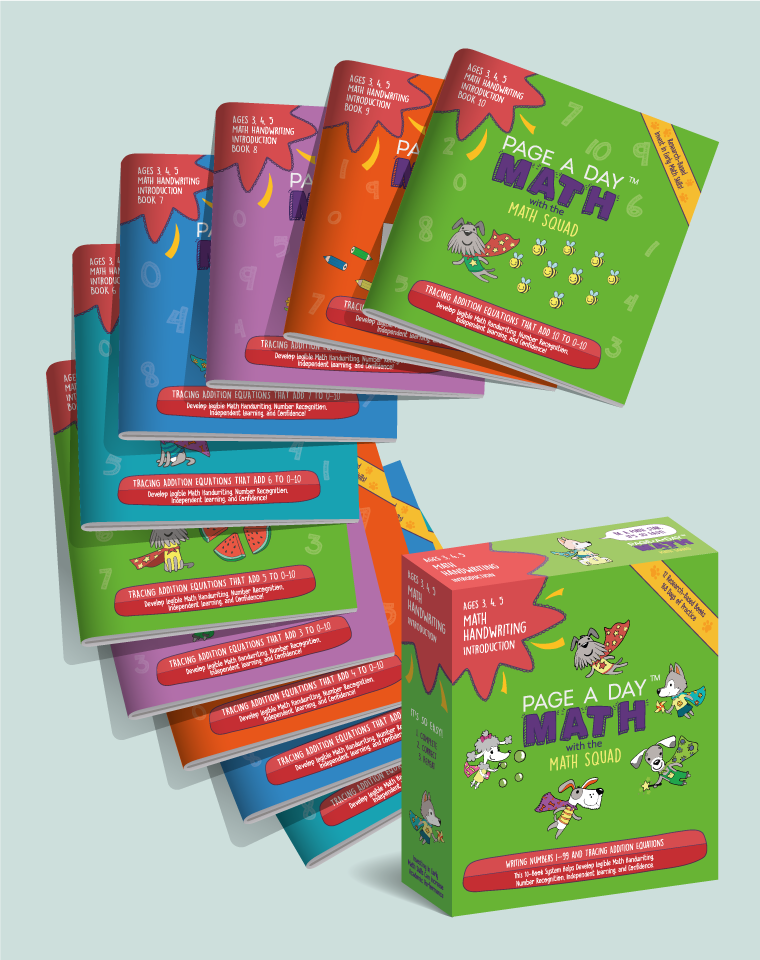 Math fact exercises your child can complete at home. Replaces costly tutoring and builds independence.
A 10-book system with 14 days of practice per book. The intentional, step-by-step progression allows your child to master concepts before moving on.
18 problems per day, spread across two sides of a single page, which provide practice without being intimidating or overwhelming. It's easy on the eyes and achievable even for young children. Up to 15 minutes a day is usually all it takes—often only 8-10 minutes once your child gets going.
Math facts presented conceptually (through pictures of dog bones) and symbolically (through numbers). The process of counting the bones, learning the symbols, tracing the math fact, and then copying the math fact helps children fully grasp each concept.
An easy-to-read, child-friendly font that removes the confusion of 6s and 9s, 1s and 7s, and 4s and 9s.
Tracing prompts to help build fine-motor skills. Children learn to take pride in their precision and penmanship.
Unique "tracing tracks," not dotted lines, that make tracing and number writing easier and more fluid. A small dot at the top of each number tells children where to start.
Numbers with arrows indicating their proper formation.
Wide-ruled-size font and handwriting guides, supporting the needs of younger children.
Daily reviews of old facts along with the introduction of new facts for meaningful practice.
Answers included with the problems for less stress while learning. Two open answers to be filled in can be found at the end of each new fact.
Lots of tracing numbers, skip counting, odd numbers, even numbers, 5s, 10s, and counting down from 10.
The opportunity to pick up other learning skills through tracing—patience, sitting, doing "homework," doing your best, taking your time, completing something, how to practice, how to erase, how to use a book, and completing a book.
Exercises that encourage independence—these exercises are simple enough that a parent doesn't have to sit with his/her child. Kids feel accomplished and confident in their abilities.
Daily achievement stars to keep your child motivated and engaged throughout the process.
An end-of-book certificate featuring the Math Squad that celebrates completion, offering tangible evidence that effort and hard work pay off.
A book size intentionally designed on a smaller scale to be easily manipulated and used by young children.
Non-glossy, heavyweight pages so your child can erase and rewrite without frustration, messy smudges, or ripped paper.
A self-contained, easily transportable box to keep books organized. Your child's own math treasure box.
Cute and colorful puppy characters from The Math Squad supporting your child every step of the way. You and your child will enjoy the adorable jokes and positive affirmations!
A digital file of the Math Handwriting Introduction Series (10 books) for unlimited practice.