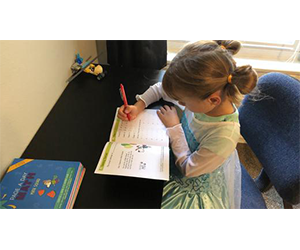 Preschools expose children to less than 1 minute of math a day!
In the U.S., Preschools expose children to less than 1 minute a day of math. Many of these kids are way behind by 2nd grade. 
UUUUGGGGH. Why does this happen? 
Every time I meet a parent whose child is visibly behind in math by 2nd grade, I feel so sad and frustrated. 
Why?...
...because their child was already behind in Kindergarten, and no one brought it to their attention or told them what to do to easily get their kids to grade level or ahead, without a tutor.  
I can tell you with certainty, whether your child is in Kindergarten or already in 4th grade, exactly what they need to do to excel in math. 
Book a math plan strategy appointment with me and I'll create a plan to help your children be confident and successful in Math.
Look, no child should be behind in math or feel nervous about it…ever.
It's a perfect science. 2+3 is always 5. 
So here's my beef with math, or the lack of it, and why so many kids are falling behind at such a young age and parents aren't aware and/or don't know what to do about it.
School facts…preschools simply don't do much math and are often against it, like it's going to stress the children out or something. I've heard time and time again…"we don't do worksheets," "we are play-based"…. well what does that mean? Math isn't fun? Why is learning to write letters and read okay, but math is not?
Fact...Pre-K kids LOVE math and are good at it. Why would you not introduce math to them early? (research fact: aptitude for learning complex concepts in Pre-K is high)
With Covid, your kids are at home and it's easier than ever to pick up on where they're struggling and help them. Now, you're more aware of what your child is doing/not doing in school.
Adults who've had a crummy experience with math may be keeping kids from early exposure to math because of previous feelings and experiences. They're often the ones making decisions about how much your child will be exposed to math in Pre-K and Kindergarten. They can assume your child won't like math because they didn't.
Unfortunately, this is a huge problem with early math exposure.
Here is what happens. When your child is young, they have lots of play time and free time. As they go to school they get busier and busier. They keep up with homework and activities.  
But they don't make time to work on the foundation anymore, and most teachers and schools don't tell you to either. 
So parents, it's your responsibility to recognize the gaps and fill them in before they become too overwhelming to correct. I only realized this after my daughter was way behind in 2nd grade and made it my mission to help parents recognise this so their kids can recoup the knowledge they're missing.
All of a sudden your child is in 2nd grade and they are getting word problems and double-digit addition, subtraction, and borrowing, but they STILL don't know addition well, and I mean fluency, not counting on fingers. Fingers are fine in Pre-K and Kindergarten.
At some point early on they need to KNOW (like they know their name) all of their math facts without hesitation. 
Strategies?? Yes, strategies are great in the beginning, but your kid needs to know math facts in order to do math. Strategies won't work forever. They take too long. Your child needs to build fluency starting in kindergarten.
Multiplication comes along…virtually impossible to learn when you don't know addition or subtraction. Forget about long division if you don't know subtraction or multiplication.  
If every child started addition in Pre-K and got to kindergarten knowing addition facts through 10+10, was finished with addition and subtraction by 1st grade, and then learned multiplication in 1st grade (solidifying addition and subtraction), then learned division in the beginning of 2nd grade, they would LOVE LOVE LOVE math and be confident for the rest of their education with math. This is a great way to get your kids confident and competent at math!
If you are not doing this and are waiting for your kids' school to cover everything, then I can pretty much guarantee that your child will unfortunately have difficulties with math by 4th grade, even if their school says they are doing a great job. 
I was met with this situation over and over again.
Make sure you start teaching your child addition before kindergarten. If you have questions about what to do, just make an appointment with me and I'll create a math plan with, free of charge.
If your child is behind or you're simply not sure where they are, you need to figure it out fast and start helping them catch up right away so they don't suffer later in math classes. I am confident my suggestions will help you and your child and am willing to give my time to anyone who wants to help their child.