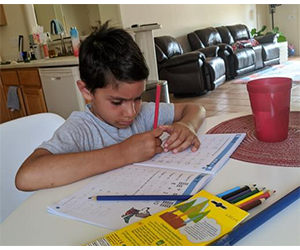 Is This A Math Curriculum or a Math Supplement?
One of the questions we are asked most frequently is whether or not Page A Day Math is a full math curriculum or a supplement to one.  And, to be honest, the real answer is--it's both!
As a supplement, Page A Day Math is the perfect complement
 to any math curriculum. It provides just the right amount of daily, incremental practice to help children master their math facts--a crucial component of math fluency. Many other curricula teach math facts on some level. However, you rarely find enough systematic, dedicated math facts practice incorporated in a curriculum for children to achieve real mastery and fluency. This is where Page A Day Math comes in. It gives your child that focused practice, on math facts alone, needed to automatically recall them when necessary without being overly burdensome. In fact, one of the things that parents consistently say they love the most about Page A Day Math is that it isn't overwhelming. With just a single page, front and back, of practice per day, you can easily incorporate this program with your current math curriculum. 
As a stand-alone curriculum, Page A Day Math offers a complete math facts program. This program teaches children all their math facts, from 0+0=0 all the way through division 144/12.
This is done through the presentation of a new math fact each day while reviewing what was already taught, in a systematic and scaffolded way. From the preschool to early elementary years, Page A Day Math provides the instruction children need to prepare them for future success in more advanced math and beyond.  
Additionally, Page A Day Math teaches more than just math facts. It teaches proper handwriting--a critical skill for academic success. (Because you can't get the right answer if you can't read what you've written.) And it teaches a growth mindset. The Math Squad is there with your child every step of the way, encouraging them and showing them that they are fully capable of learning new things, growing their skills, bouncing back from mistakes, and having fun with math. The Math Squad's number one goal is to show your child that, no matter what their past experiences have been, they can be a math person!
Page A Day Math is also the perfect review product for older children. Most kids will typically do fairly well in the early years even if they haven't memorized all their math facts. But if they don't have them memorized, they will often struggle as soon as they begin to encounter more complex math. If you see this start to happen, as I did with my daughter, Jordyn, you should check out how using Page A Day Math can catch them up and help them excel by giving them that critical math facts foundation. Most parents report that they begin to see a real difference in their child's math confidence and fluency after just three to four books.
To see how other parents are using Page A Day Math, check out some of these parent and teacher reviews.
To try a sample math book from one of our math kits,

 

click here.


Try our complimentary flashcards,

 

click here.
About the Author and Creator of Page A Day Math
Janice Marks

Janice began her career in education to pursue teaching pre-algebra at BASIS Tucson North, a charter school currently ranked as the sixth-best STEM school in the country by Newsweek. There she found joy in teaching math, working with parents, and inspiring children to believe in themselves and thrive. This experience, along with helping her own children succeed in math, led her to develop the Page A Day Math system.